Want to learn more about creative financing for real estate investors? Are you curious about owner financing, seller financing, contracts for deeds, all inclusive deeds of trust (AIDT), wrap around mortgages, subject to, installment land contracts? Learn about these and more in The Ultimate Guide to Creative Financing.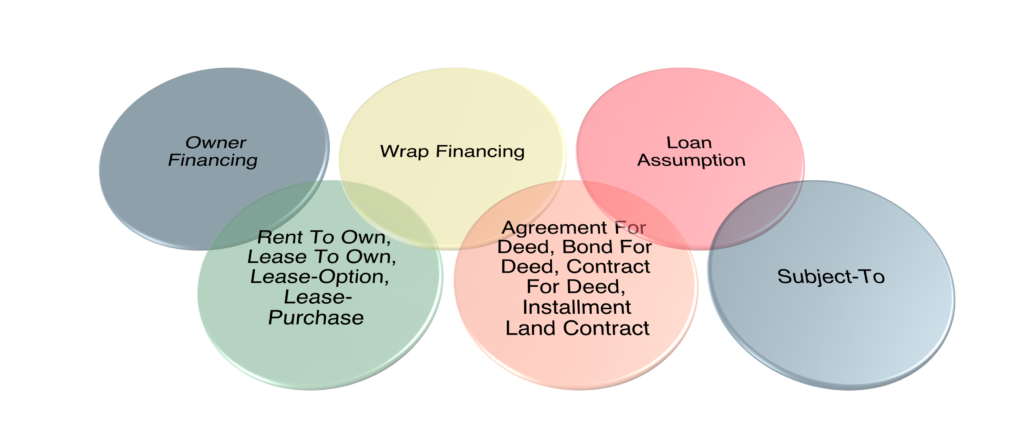 Class Recording:
Creative Financing 101
Interested in learning about all the different types of creative financing? Then check out this special real estate seminar I gave on the six types of creative financing.
Also, considering checking out additional creative financing classes.
Warning
I strongly recommend that you always get the advice of and use an attorney on creative transactions.
These can be complex, nuanced transactions that—if done incorrectly—can get you in expensive trouble.
Win-Win or No Deal
"With great power comes great responsibility." – Spider-Man
Yes, you could probably structure transactions that are not win-win where you take advantage of people… don't do it!
If I hear about it… you'll be banned from our investor meetings and removed as a member and from this website.
You should only do deals that are win-win for all involved… win-win or no deal.
Benefits of Creative Financing
…and why you might want to consider doing these types of deals.
Little or no down payment required

Same benefit as Nomad™ (except you don't need to move in)
Traditional down payment – usually 20%-25%

Can do it with less in some circumstances

Possible to buy without bank qualifying

Can buy with credit blemishes (bankruptcy, foreclosure, short sale)
Can buy without income qualification
Always disclose material fact

Buy in an LLC or other entity up front
Amplified (some would say improved) Return on Investment
Walk away – see my presentations on Warning: The Dangers and Risks of Real Estate Investing and Reducing Risk While Nomading™
Self Directed IRA/Self Directed 401K without 30-35% down or partners
Partnerships (without a credit partner)
Could allow you to buy a property while waiting to qualify for more traditional purchase

Increase income, save down payment, job history

Less likely to have Capital Expense challenges because model strongly suggests inventory turn-over
Downsides of Creative Financing
…and why you might want to consider NOT doing these types of deals.

Download Marketing Modeling Spreadsheet
Limited selection of properties

Buying traditionally allow you to pick the best properties from the largest selection

More labor intensive to buy this way
Lower ROI for time invested
It is possible to structure them in ways that make them questionable
Jargon Versus General Discussion
For this class—because it is YOU—I'll be using jargon

Subject to, ARV, LTV, even down payment, return on investment, etc

When talking to Sellers and presenting… use more general terms and explanations

I'll buy it "subject to" and give you $5K for your equity
I'll buy it and I'll take care of your mortgage payments and maintenance and I'll give you $5K at closing
See my class on Seller Presentations for more information.

General discussions over describe more than one technical strategy

"What if I covered the monthly payments on your loan and the maintenance on the property so you wouldn't have to worry about that? Is that something that would work for you?"
Discuss: Which type of creative financing am I referring to here?
You Are Not Your Sellers
Remember, you're not your sellers. Whether or not you would do something is not a reflection of what others would do.
Why Would Sellers Do Creative Financing?
To solve a problem they have
Can't afford house anymore
Stop making two mortgage payments
Negative emotions associated with house like a divorce or death
Access equity quickly and/or easily
Don't want to manage it and/or maintain it
Want an income stream from their equity
What would friends, family, neighbors think
To get their price (even if it means being flexible on terms)
Why Wouldn't Sellers Do Creative Financing?
Not a good solution for them
Fear

Tenant trashing the place, not paying, calling with repairs in the middle of the night
What would friends, family, neighbors think

Unrealistic expectations

I am going to get a cash offer for full price any day now
My home is nicer than all the others on the block
My agent is just not marketing it well enough so I'll find another agent
I bought it for $X, so if I were to sell it, I'd need to get $X plus $Y
I'd want 20% (or more down)

They need or are willing to wait for more traditional loan or cash transactions
Creative Buying Process
This is an example of the creative buying process. Many folks will close the transaction BEFORE occupying the property with a tenant or tenant-buyer but it is ideal if you can line that up before closing. The ideal is represented in the process above.
Creative Financing FAQs Matrix
Creative Financing FAQs Matrix Legend
Y = Yes
N = No
U = Usually, but not always
S = Sometimes, but not usuaully
These are intended to be general guidelines.
There are exceptions and unusual situations for every case… including this statement
Think of this like a puzzle: You're trying to minimize and mitigate your risk, maximize profit but make a win-win deal. How could you structure it to accomplish that?
You need to understand how the different pieces fit together to accomplish that.
Fees Collected From Your Tenant Buyer
Some people like to look at that as money to cover the costs of acquiring the deal: marketing, down payment, closing costs, attorneys fees, loan costs, etc.
Some people like to look at as improved cash flow: $6,000 down from your tenant buyer for a year long lease purchase is really $500 extra per month cash flow.
This is like selling your home for $6,000 less if you applied this amount toward purchase (which is negotiable, but recommended).
Some people look at it like an security deposit on steroids to protect your from possible tenant challenges.